Basics
Full Name:
Yūdokuna Kokuō 有毒な国王
Meaning of Name:
Toxic King
*Nickname:
Kuna
Astrological Sign:
Gemini
Sex:
Male
Human Appearance
Human Age:
20
Human Eye Color:
Golden brown
Human Hair Color:
Light warm chestnut brown
Type of Build/Body:
Small (petite) slender and delicate in build......
Height:
5'5"
Weight:
115lbs
Distinguishing Marks:
Always present fangs, and claws. He has no tattoo's. Although his ears are pierced several times. Going up the earlobes. He often wears a linked chain in the one that dangles down.
Traits
Skills:
He is the strongest vampire alive, incredible agile, able to regenerate any lost limb. He can move just about anything with his mind....except perhaps a mountain but then again he's never tried. And able to grow a very unique poisonous (toxic) berry that can kill anyone or anything just by touching there skin among other things.......he has a vast array of skills and powers and uses so few of them....it is rumored whenever he drains a vampire dry he gains there powers as well. Then there is the fact that it is impossible to drain him dry.........and despite everything even his 'delicate' appearance this small fragile appearing man is the King of all Vampires..........
Attitude/Personality:
Versatility is a great keyword for this dual sign. Expressive and quick-witted, Yodukuna presents two distinctive sides to his personality, and you can never be sure with which one you're going to come face-to-face. On one hand,Yudokuna can be outgoing, flirtatious, communicative, and ready for fun, fun, fun. Yet when the other twin is present, you can find him contemplative, serious, restless, and even indecisive. Both sides of his persona are able to adapt to life's circumstances well, making him a wonderful person to know. Things are never boring when Yudokunai is on the scene.
Talents:
He can sing, and paint and writes novels as a means of living and he's incredible at it.
Images For character:
[img]
[/img]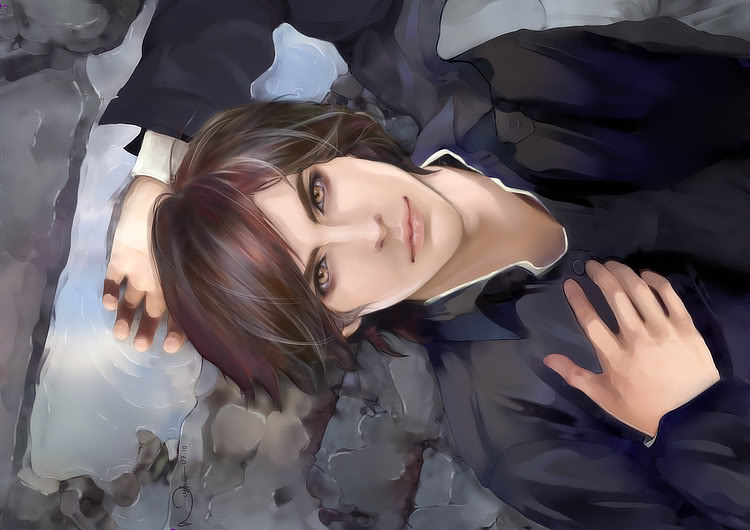 Background
History:
Kuna's life is surrounded in mystery and rumor.........some of which he started himself some of which others have started and he keeps them all going the less one actually truly knows about him the better.........