Basics
Full Name:
Fuyōna Takusen.
Meaning of Name: Unwanted Prophet

*Nickname:Yōna
Astrological Sign: Cancer
Sex:
Male
Human Appearance
Human Age:
 19
Human Eye Color:
 Aquamarine
Human Hair Color:
 Silver
Type of Build/Body:
Lean and well built he's athletic
Height:
 5'7"
Weight:
 135lbs
Distinguishing Marks:
Other then being a crusink and having a heartbeat the first vampire with one as an original he is unique but he has no piercings and or tattoo's yet.
Traits
Skills:
Fangs, claws, all of the normal vampiric abilities.
Sand art manipulation. Yona can control sand.....making it change shape bend, harden.....anything that can be done with sand he can do.....including sudden super heating it and making it glass.....to causing solid stone to break down into sand.
Fuyona often carries a large clay gourd on his back.......it holds the sand he often uses to play with.
He has echoes of his parents powers. Able to control powers like there's if he is near them.
Attitude/Personality:
 Anything goes when it comes to him he almost seems bipolar but he's not. His emotions shift continuously and he wears his heart always on his sleeve. Yona is warm loving wild playful and care free.....if one is expecting a warrior they would be disappointed......
Talents:
sing, dance paint, artistic fighting.....you name it he dabbles in it.
Images For character: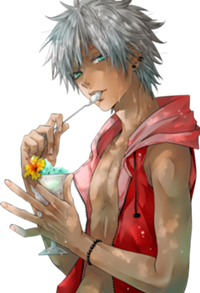 Background
History:
Lilith took DNA from all of her sons combined it in side herself with magic and in the end created Fuyōna. She sealed him away in an urn making him believe that she was doing it to protect him. But he grew up in there and when he came out the eyes of the woman that bothered him had not changed they were still full of hate. Figuring they had to be the opposite of her and there for cool his goal since being freed of the giant gourd like urn was having fun and finding his family and truth which he knows how she came back but wants to know there's.