Basics
Full Name:
Seinaru Mamorigami
Meaning:
Sacred Guardian Angel
*Nickname:
Seina
Astrological Sign:
Sex:
Male
Human Appearance
Human Age:
21
Human Eye Color:
Gray green (a pale silvery green)
Human Hair Color:
Such a dark shade of blood red it looks black.
Type of Build/Body:
Small lean and well built.
Height:
5'11"
Weight:
156lbs
Distinguishing Marks:
On his left hand spiraling up his arm is a feather like set of markings a birthmark that covers his entire arm upto his shoulder. His ears are pierced several times as well as his tongue.
As a angelic being he was born unique with large Golden wings whose feathers allow him to cast celestial magic.
Traits
Skills:
Vampirism- Seinaru accepted a gift a few centuries ago from Shoku. By allowing him to change him into a vampiric being gaining all of the attributes and abilities of a vampire including the fangs it gave him freedom and removed him from Odin's awareness.
Flight, incredible agility the abiliy to sense demons/dark enegy. Feather magic he can cast increbdily complex spells using his feathers and cause his golden wing to become almost crystaline in apperance and transulsant. Instant charisma with any animal he's often surrounded by them. The abiility to speak an al language and he can form a large cross like sword.
Attitude/Personality:
Unlike every other 'angel' of the Imperial Heavens. He is kind, caring and generous. Seinaru was born unique as he has a soul, a will and a mind of his own. Supposed to be designed to be loving and obediently obey borders he is different. As Seinaru is capable of every human emotion and has fallen in love with Shoku who he will help and protect to the end.
Talents:
He can sing and has the ability to craft beautiful objects out of clay. Seinaru also has quiet the green thumb. He can grow a lush garden under the worst of conditions
Images For character:
url=https://servimg.com/image_preview.php?i=507&u=14675901]
[/url]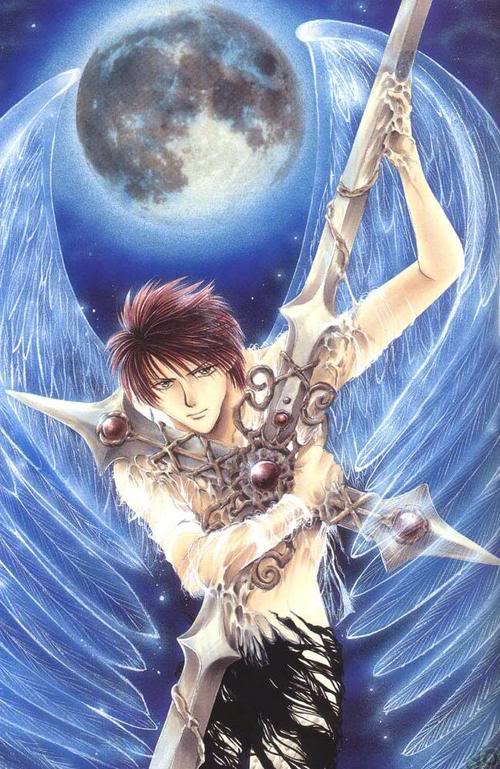 Background
History:
To be revealed in game play.